GMUNK
I feel akin to Mr Sean Carter(jay-z) himself when I say "All the hustlers they love it just to see one of us make it".
In 2000 when I was introduced to graphic design and Macromedia Flash, interactive media was progressing constantly in both code and art.  During this time Gmunk emerged not only as a talent but also as a personality in design.  
Progressing from flash to motion graphics and continuing pushing the envelope onto the big screen leading the motion graphics for Tron: Legacy which grossed over 170 million dollars worldwide. With his passion for knowledge, community and giving back Gmunk has presented some of the largest design conferences on the planet and continues to push the envelope in his ever evolving style and production techniques. From Mandingo Imortal to the now famous "box" he produced with Bot and dolly Gmunk is a legend on the internet.
DB: What have you been up to lately?
GM: I've been working hard on another big live-action project, an abstract short film that I'm very excited about.. I've been doing a few more conference trips, small collaborative projects all the time and just been really busy with client works as well. In sum, I'm just hustling, son. Not sure what for, but hustling for something!
DB: Is that a good thing?
GM: Well I'm single, I can kind of do just whatever the hell I want, so I'm taking advantage of that time before I go down haha, not really.. But I'm putting all my passion in to my work right now so that I can feel satisfied when I finally settle down, whenever that is — and to be honest I'll never really settle down anyways.. But I always believe in the Work Hard vs Play Hard mentality, so when I do decide to play, it's to the extreme — it's best that way..
DB: You are active in many roles throughout design and production, would you describe yourself as a motion graphics director?
GM: I like to describe myself as a graphic designer. It makes me feel better about myself — being a graphic designer and not a motion graphics designer — as I feel like the motion graphics in some weird way cheapens it — although that makes no sense. Motion graphics, if anything, is a higher form of design than graphic design as all motion graphics has an element of graphic design in it, but for some reason I take more pride in calling myself a graphic designer… It makes me feel better in my heart, more diverse, more grounded..
DB: How did you get started into the world of motion graphics?
GM: I graduated college and I was mostly a flash animator -- in school I took film classes and was digitizing my footage and putting it into flash to tell stories. When I graduated college I went to work in web design but was more like the staff editor of a very progressive company called Vir2L, where I worked with some of the worlds best, learning as much as I could about design and culture. Then we all got laid off in the dot com bubble bust and that was when I moved in to motion graphics and really got in to 3D and started to work at Imaginary Forces with Kyle Cooper as my boss. That was my first real job in motion graphics. Working for Kyle was really influential in the work that I would do for a very long time.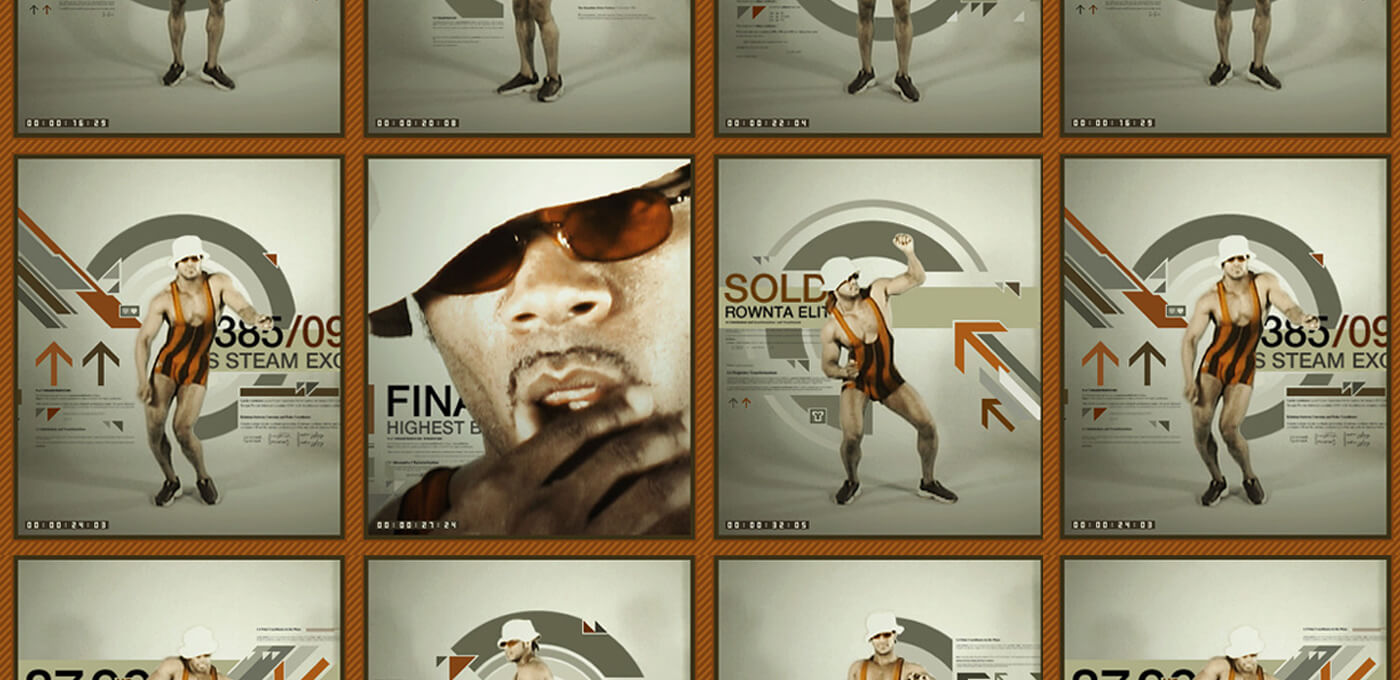 DB: Do you have any other mentors?
GM: I'm very easily influenced by people that I collaborate with and I pride myself on that — I'm a very open system. I'm very open to learning and being influenced by others and I find that a more healthy approach to creativity. Adapting and ingesting from your surroundings makes you a much more diverse and inspired designer and helps you stay prolific when you try to keep pace with some of the greats, especially when you get to know them personally.
DB: You are doing some pretty prolific work right now. Do you feel like your career was a blast off or that it stayed on a pretty even rise?
GM: In the early 2000's there was definitely such a thing as a web celebrity, and I happened to be one of the handful of designers doing really weird shit with flash when it was the new thing…That's how GMUNK came about – it was more timing and luck than anything. I happened to graduate college right when the boom in design and animation on the web was taking place and everyone was kind of floored by it. And then that tapered off a little bit and I went in to this weird three or four year stint where I was only doing work for hire and not really doing my own thing. After the Mandingo site I kind of went off the radar for a while which was definitely the darkest period in my career because my priorities were all out of whack. I was more into just freelancing and partying and being in the L.A. scene. I didn't really have my priorities figured out, but I caught a break when I moved to Venice Beach to work on a Hummer commercial with Joe Kosinski, and that eventually led to directing the Holographic designs in Tron Legacy, so that was definitely the biggest break of my career. We were REALLY inspired and worked incredibly hard on that, capitalizing on the opportunity as much as we could - and that energy and passion really invigorated my career. From there I used that momentum to do more work with Joe and others, and really focused on making sure I did work for myself and putting all my energy into really building the GMUNK brand rather than just working for other people — as working for myself keeps me the most inspired. It's not a self-indulgent thing, it just inspires me the most to work for a brand that I've been building for over a decade - it's personal.
DB: Do you see yourself as a specialist or a generalist?
GM: Ha, I see myself as neither. I see myself as a very diverse graphic designer, someone who is in to experimentation and accepting design challenges to make myself very uncomfortable. I look at a generalist as someone who doesn't really own anything or direct, and a specialist is someone who isn't entirely diverse.. I'm now at a point in my career where I wish to have ownership of the work, ie Directing, Design Directing, Lead Design etc … Of course the Directing K-Hole is a deep one, and even though I look at myself as an aspiring director, I'm not too keen on that label and I don't need it. Graphic Design is what I am all about and it transcends everything I do, in work, in lifestyle, in how I organize everything - and that's where my heart is, I'll always be a designer — it's in my blood. So in sum, I'm always challenging myself to evolve, trying not to do the same thing twice so I can continue to grow, and also taking ownership over concepts and execution - and that's why I will never be a specialist or a generalist..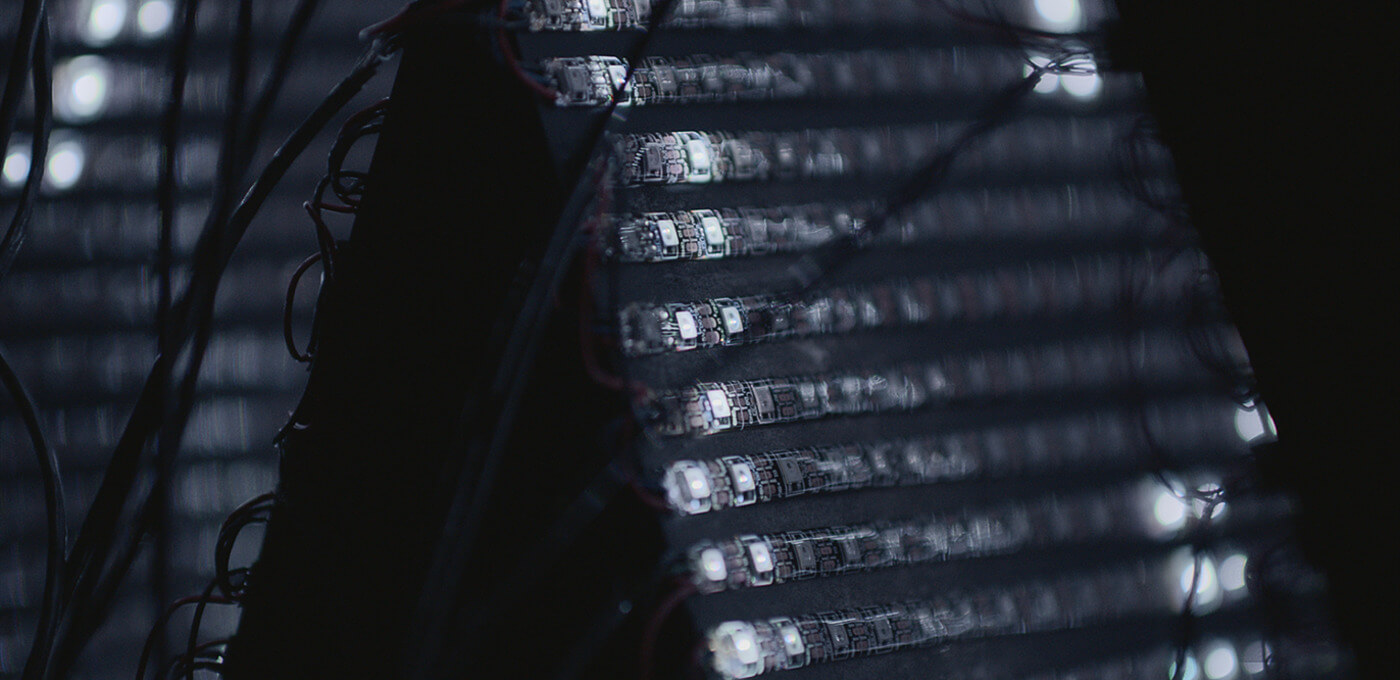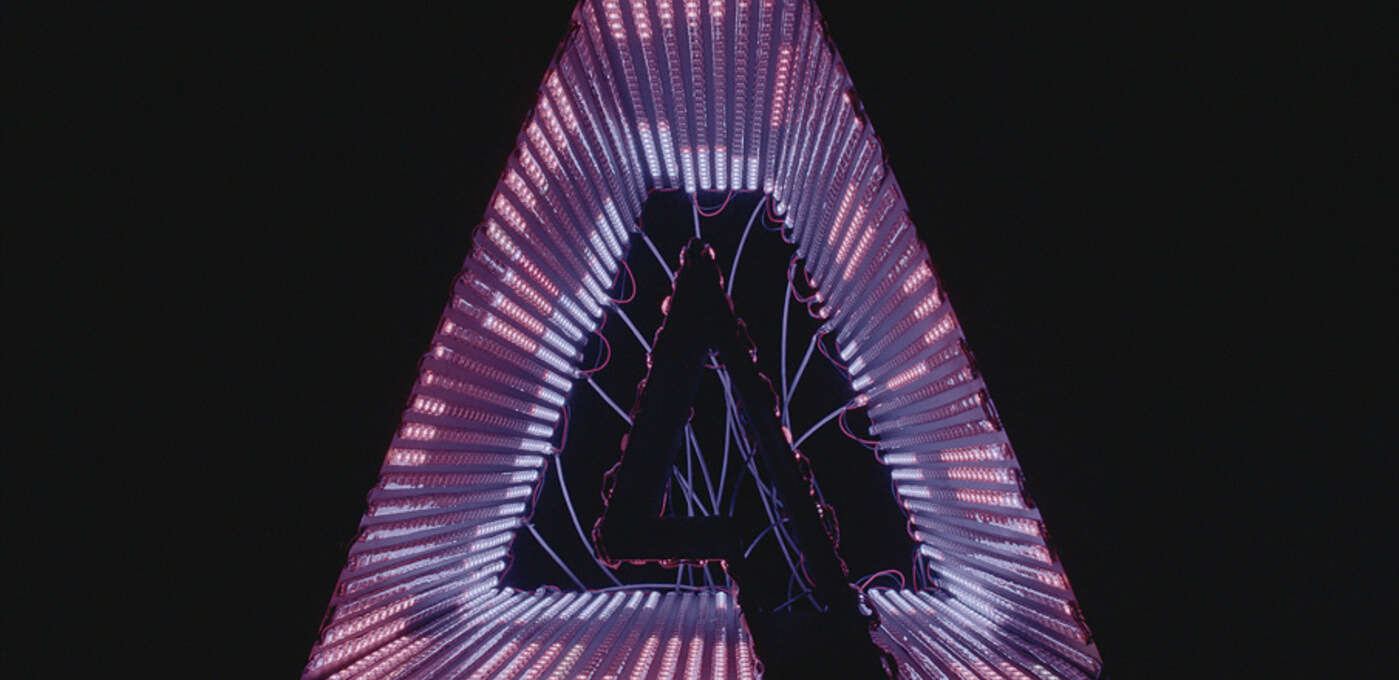 DB:Do you have a favorite type of work right now?
GM: I really enjoyed the Adobe piece. I like building small, contained, practical vessels and filming them as a kind of lab experiment; a contained subject matter with a controlled amount of variables such as lighting, material reactions, filming styles etc. I find these simple shoots really rewarding as the variables are kept to a minimum and it feels like design again and not the chaos of live-action.. On the flip side, currently I'm doing a big ass live-action shoot right now, which is stressful and really hard. It can be more rewarding in the end, but it's tough. You can't give anything less than 110%, which is thrilling but incredibly challenging.
I go through phases and I'm actually really missing the techy shit right now. I'm missing the 3-D holograms that we did on Tron and I'm kind of missing interface work in some strange way but I don't know, I guess each project is different and it's a different set of challenges. I always find that whatever I am currently working on I push to be the best work I have done so in a way that becomes my favorite because I want to do the best job that I can, otherwise what's the point? You need to keep outdoing yourself – you don't want your best work to be from years ago! And there's no such thing as doing the work for the money and checking out mentally - if that's what the psychology of the work you're doing is, then you're doing the wrong kind of work..
I ALWAYS FIND THAT WHATEVER I AM CURRENTLY WORKING ON I PUSH TO BE THE BEST WORK I HAVE DONE SO IN A WAY THAT BECOMES MY FAVORITE BECAUSE I WANT TO DO THE BEST JOB THAT I CAN, OTHERWISE WHAT IS THE POINT? YOU NEED TO KEEP OUTDOING YOURSELF – YOU DON'T WANT YOUR BEST WORK TO BE FROM YEARS AGO!
DB: How do you feel when a project is actually completed?
GM: It feels good! I love the feeling of doing a very thorough collect and putting it on my website once it's done - having that final moment of closure.. Then once it's done it's done – it's old news and I don't like to talk about it anymore as I just look forward from there. And let's talk about expectations for a second - how things are gonna be received - or how you expect them to be received.. I learned a really important lesson on the Tycho music video because when it came out I had all these expectations on how it would be received, and clearly my priorities were wrong - and I put a lot of energy into caring about that reception, when in fact it just doesn't matter — it's not why we do the work.. And then I released the performance cut of the same music video – a full cut of infrared band footage – and had no expectations for that and it's actually doing much better than the original music video - and it's so much more satisfying as I didn't have expectations and that feels better, more true and genuine. So in sum, when you have no expectations of the reception, then they will always be exceeded by the reception you end up getting - delightful! So yes, I've been putting all my priorities on the creation of the work, and no energy into caring about how it will be received, although I'll do my best to make sure the presentation of it is always tight, because that's what designers do.
I WAS TOO CAUGHT UP IN THE REACTION OF OTHERS TO MY WORK AND THAT'S NOT HOW YOU SHOULD WORK.
DB: Talking about a project that you have completed, how was the actual shooting of the OFFF Cincinnati title sequence?
GM: We did one set up a day for six to eight days, so it wasn't too bad - it was really fun actually — that piece had an incredible spirit to it and I collaborated with all my beloved co-workers on it at Autofuss. Everyone had a ton of freedom to own their own section, and it felt like a very pure collaborative spirit. Technically, I guess I directed it, but gave everyone a voice and a chance to really take it as far as they wanted to. It was very rewarding – I felt like a Creative Facilitator more than a Creative Director. And it was for the love, we weren't selling anything and that always feel good…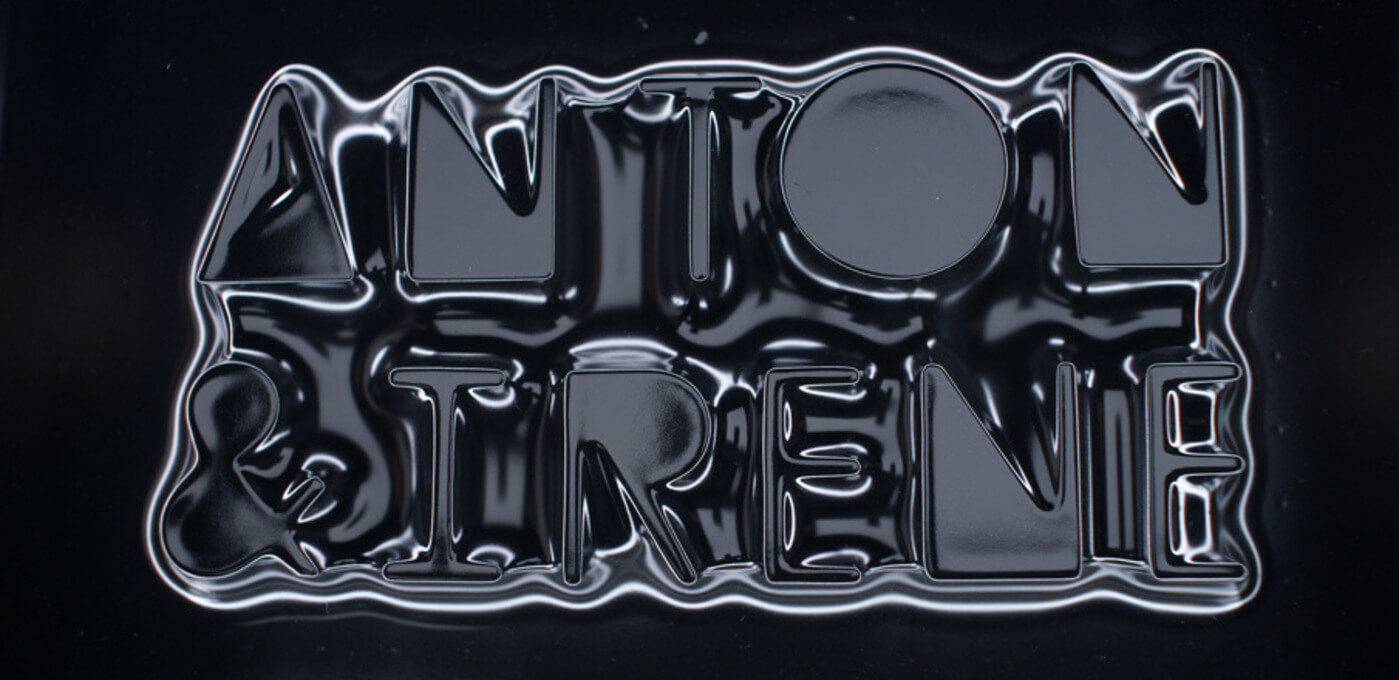 DB: You must get used to jumping around from company to company.
GM: I could easily have taken a staff gig somewhere and made a ton of money, but that's not what I am about. It's not about playing it safe. I'm much more inspired by the unknown, by the law of detachment and the uncertainty of the universe than I am in a steady gig with lots of noisy politics etc. I'm much more of a renegade, more like, "f**k that, I just want to go to Iceland and make a film with a friend rather than putting in vacation day requests and all the BS." I will definitely make a lot less money in the next year and a half, but I think it's going to be a lot more invigorating for me.
IT'S NOT ABOUT PLAYING IT SAFE. I'M MUCH MORE INSPIRED BY THE UNKNOWN, BY THE LAW OF DETACHMENT AND THE UNCERTAINTY OF THE UNIVERSE THAN I AM IN A STEADY GIG WITH LOTS OF NOISY POLITICS ETC.
DB: What are you planning to do for the next year?
GM: I'm going to be an interactive director for Tool — a very cool and progressive production company in L.A. I don't really have a goal or a plan but I feel really good about where Tool is going to take my career, especially on the live action side — I'm just ready for it, feels like the big-leagues again, and of course I could fail miserably but it's worth a shot. I think it will be really nice to close off all the noise around me and be in my basement by myself for a while, focused on building the GMUNK brand in a sea of Hi-Fi tunes..
DB: You are going to be a director, but you seemed hesitant to call yourself one earlier. What lessons have you learned going into this role?
GM: Directing is hard as f**k. It's messy and it's stressful. Design is really easy compared to directing as there are not many variables whereas directing you have huge crews, there's a ton of stuff that can go wrong and it's definitely a hard, stressful gig. I've definitely failed at it here and there, and always have learned from my failures - which makes it all so rewarding. The key to directing is being organized, never panicking, believing in yourself and your crew and being open for experimentation when things don't go as planned, because there will always be those variables.
THE KEY TO DIRECTING IS BEING ORGANIZED, NEVER PANICKING, BELIEVING IN YOURSELF AND YOUR CREW AND BEING OPEN FOR EXPERIMENTATION WHEN THINGS DON'T GO AS PLANNED, BECAUSE THERE WILL ALWAYS BE THOSE VARIABLES.
DB: Where do you find all your inspiration?
GM: Every artist has a different methodology but I consume reference like crazy. For example, in this new film project that I'm doing, the inspiration was based on references that I found and put in front of me and then I saw a thread that worked through all the references to create a narrative arc. That's kind of how I work in a lot of ways: consume a ton of reference and then find a thread. Figuring out aesthetics is the easy part, it's more the techniques and the narrative for filmmaking that I find challenging. Those inspirations might come from dreams, or walks in nature, still images or whatever. But my greatest assets are my vast reference library and my imagination.
I live life a bit extreme where I will work incredibly hard and then party incredibly hard. I definitely delete a lot, reboot my brain a lot. Conferences help that as you get away and travel. Burning Man and dance parties really help too. It's kind of a wild cycle and I have no dependents so I can do it. It's been a very inspiring couple of years and I think my output from this span of time has been pretty high.
THAT'S KIND OF HOW I WORK IN A LOT OF WAYS: CONSUME A TON OF REFERENCE AND THEN FIND A THREAD.
DB: What keeps you going – the end product, the everyday journey or the response you get to your work?
GM: Since the advent of social media it is easy to get trapped on the response to your work but I don't do it for the validation of others. If we were in a closed system I would still work just as hard but there is something very inspiring about publishing work. It's like I'm weaving a magic carpet and each stitch is a piece of the whole and it gives me great pleasure to keep adding to that creation and seeing it evolve.
DB: You mentioned conferences earlier. How many conferences do you speak at a year?
GM: Between four and six. I try to do them in groups. I derive a lot of pleasure and inspiration from conferences. I love learning about other people's process and getting to know the speakers. It's all out of love and people who are inspired and want to share their experiences… I love the conference circuit…most of the big gigs I have got in my life have been through people I have met at conferences. I am very fortunate to have gotten in to that very early -- I've done over 60 talks. Everything's changing now that I am going off on my own and not getting paid by the day anymore so it's easier to just say, "F**k it, I'm going to take off," so I actually have a few conferences planned for next year. I'm going to an Intel one in Portland, one in Mexico in November as a release from finishing this film, Tokyo, Barcelona, Dublin, Costa Rica… It's like extreme vacations but also incredibly inspiring. There are so many people that I have seen speak that have been transformative for me…I'm always interested to find out what compels these people to work as hard as they do.
DB: You have built a reputation speaking at conferences. What is your message when you speak?
GM: I kind of share what drives me and how I carry myself professionally. I'm definitely a guy that doesn't want to take myself too seriously. I appreciate the lighter side of presenting my quirks and personality and not being too self-involved – I don't think the work I am doing is saving the world in any way! I like to be creative and express myself and that is really it…I guess my message is to be extremely humble, be incredibly focused on the moment, just put everything you can in to each project and promote yourself well. You've got to put your work out there for things to happen, just like you've got to ask girls out to get laid.
YOU'VE GOT TO PUT YOUR WORK OUT THERE FOR THINGS TO HAPPEN, JUST LIKE YOU'VE GOT TO ASK GIRLS OUT TO GET LAID.
DB: You've talked about failures more openly than a lot of people. Why do you put that out there?
GM: It's like getting beat up in the school-yard: You learn the most from when you fail. For some reason I've always just been about learning and growing and the failures are what inspire you the most. I will never do a project where I'm like, "That's perfect." There are a couple of pieces that I have done where I feel like that's as good as it's going to get, like the dancing Mandingo which I made in 2003 was pretty great… The bigger things have a ton of failure but you just do the best you can do and you learn and you grow and the experience is invaluable. That's all it is. Just throw yourself to the sharks and make shit happen. Failure is something that you can grow from.
JUST THROW YOURSELF TO THE SHARKS AND MAKE SHIT HAPPEN. FAILURE IS SOMETHING THAT YOU CAN GROW FROM.
DB: When you look back, which projects were you most creatively fulfilled by?
GM: I guess when you write a film you feel the most creative fulfillment because it's personal, and a very deep, involved process all the way to execution - so all the sweat and tears are fulfilling at the end.. But for me personally, I don't think I'd ever do a feature-film as it's just too much of a commitment. I'm more into a shorter timeline where you do something, release it, move on. That's more my personality anyway; I'm Sagittarius and I love to bounce around — I thrive on change and making myself uncomfortable and figuring it out. There isn't a project yet which I could call out as the most creatively fulfilling. Every project is so different that it's hard to compare them and if you are doing it right, you are doing something new on every project and never really recycling the past, and that's refreshing.
I'M SAGITTARIUS AND I LOVE TO BOUNCE AROUND AND I THRIVE ON CHANGE AND MAKING MYSELF UNCOMFORTABLE AND FIGURING IT OUT.
DB: Do you have a process you apply where you do some things the same each time, and some things differently?
GM: I dive in to a project with a ton of research and really immerse myself in that visual world and from there I figure out what resources and collaboration I need. But it is exhausting and one thing I have always made a big point to do is to live healthy with diet and exercise. When I go to work and haven't exercised it's really tough…That stuff is really important to me, to keep the physical energy going as much as the mental energy. I've always been a very energetic person and am very disciplined to keep the physical part of my being well maintained and I feel that in essence that drives the creative as much as anything else.
DB: You do a ton of personal projects. What's your reason for that?
GM: More than anything I do it for the freedom of doing what is in my heart. I've done a ton of client work but the personal work is the most fulfilling as it is pure and unhindered, and that is really healthy for people to maximize their vision and talent.
DB: Do you feel you push yourself harder on those projects?
GM: Clients push you in a different way and it's more strategic. With personal work you have more passion, which is why we call them passion projects and I feel you will do your best work with projects like that. I like to do personal work in collaboration with people who share the same enthusiasm to create and love. It's like that feeling when we were all in school learning for the first time with that unbridled work ethic and passion for things. I always think back to those days at Humboldt State in the Art Department after hours when I'd be sleeping in the computer lab and I think back to that drive I had: That's my benchmark. That's the headspace I want to be in and personal work is the best way for me to get there.
DB: Who are the people you most like to partner with?
GM: Collaboration to me is all about the happenstance, and the current situation — so I have been collaborating with a lot of new people in San Francisco since I moved here, and before that I collaborated with a lot of people in LA, on the internet and like-minded designers. I just love it — I feel like it's a richer experience to meld your talents with the talents of others which lead to unexpected results — it's what I'm all about..
DB: If you could make your dream collaboration happen, whom would it be with?
GM: I'd love to collaborate with Chris Cunningham – he would be my dream first and foremost... Then there's Spike Jones and Jonathan Glazer… I'd love to collaborate with Joseph Kosinski again, and then Andy Gilmore, Mars-1, James Jean, Ron English – either directors or fine artists who are waaaaaay beyond where I'm at — all to learn from the higher powers in a lot of ways. I've always wanted to send myself back to school and get back into academia again – I didn't really have a solid education in High-School or College and have always wanted to continue to be more conceptual and cerebral about my work — just training myself to really pour the hours into the research before the craft, so that's something I've been working on..
DB: What life lessons would you pass on to young people coming in to design?
GM: I think that you need to stay healthy and take care of your physical being, not just relying on Coffee and Cigarettes to get you through. This sound physical being is very important, taking care of that component of yourself should be priority #1. On the contrary, I actually encourage the usage of psychedelics as I think it expands your mind exponentially and makes you a stronger creative, helping you think outside the realms of reality. Then to consume reference and content — Study and learn from the masters, break down their work, understand their process, and critique the hell out of shit, stay organized and apply design to your lifestyle. Make sure that your spaces are clean and organized and that they bring peace. Those small things really add up. Another thing is that you have to find a balance between work and lifestyle. Really put the time you are not working into cultivating proper relationships with other people. That will bring a lot of warmth into your design and it won't feel so insular. A lot of people who become fathers will talk about a new sense of drive to provide for your family, a new sense of purpose. Anything that gives you purpose and lights a flame is good!
THIS ISN'T AN EASY INDUSTRY AT ALL – IT'S F***ING HARD AS SHIT – SO IF YOU ARE GOING TO JUMP IN AND TRY TO MAKE IT YOU'VE GOT BE CHASING SOMETHING YOU REALLY BELIEVE IN AND LOVE.
Ultimately, really understand who you are and what kind of things speak to you. Find that thing that really burns inside and then follow your path — that way there's purpose. This isn't an easy industry at all – it's f***ing hard as shit – so if you are going to jump in and try to make it you've got be chasing something you really believe in and love.
I ACTUALLY ENCOURAGE THE USAGE OF PSYCHEDELICS AS I THINK IT EXPANDS YOUR MIND EXPONENTIALLY AND MAKES YOU A STRONGER CREATIVE, HELPING YOU THINK OUTSIDE THE REALMS OF REALITY - AND THAT'S IMPORTANT IN OUR LINE OF WORK..
Like what you saw?
Additional Insights