Stefan Sagmeister
Spend half an hour chatting with the man who is almost everyone's design hero, it will hopefully make you 'happy'.
Speaking at great conferences like
FITC
puts me in touch with all kinds of interesting people from our industry. Few get more interesting than the formidable Stefan
Sagmeister
, so I made the most of being in the same place at the same time to spend half an hour chatting with the man who is almost everyone's design hero.
Stefan Sagmeister is happy right now. He told me so himself. Which is a good thing seeing as the last few years he has been devoting his energy to the Happiness Project, a culmination of film, exhibitions and talks in which he attempts to elevate his level of happiness through meditation, cognitive therapy and pharmaceutical drugs.
This latest project is one of many turns in the prominent designer's trajectory and has allowed him to delve more deeply into his own personal narrative, yet whether he is working on commercial CD designs or is engraving his abdomen to promote a lecture, one thing is certain: Stefan Sagmeister is steadfastly unorthodox, provocative, intriguing and hugely successful. He may also be the only person alive who can put his studio on a year sabbatical and generate more press and notoriety by its absence than it did its presence, all while retaining a loyal client base.
Q and A
Dave: Are you in a good mood now?
Stefan: I am, I am…It's been a very good month the last month. Probably strangely triggered by a conference I was at a month ago. On the first day I hated it and thought I will never come back to this conference again, and then its quality just increased until by the last day it was really accelerated, and I've sort of been on a roll ever since… Just in a good mood.
There were many people at the conference that did interesting things to the point where I thought… it sounds so cheesy…but they really made me believe in humanity. Not that I didn't believe in humanity 6 weeks ago – I did – but it just showed me its better sides.
Dave: Let's get to the basics: Where did you grow up and when did you go to New York?
Stefan: I grew up inBregenz, Austria, a small town in the very best part of Austria, close to Switzerland and Germany. I studied in Vienna, did an undergrad in green design there and moved to New York to graduate school, (it was a scholarship), then went back to Vienna for a year, went to Hong Kong for two, then back to New York in '93 and worked for my hero Tibor Kalman for six months then opened my own studio in October of '93, so that's been now over twenty years.
Dave: Was this at M&Co.?
Stefan: Yes
Dave: I just heard a really interesting Design Matters episode where they were talking about M&Co, and the one thing I really took away was that everything there was a decision and was made for a reason and every detail was examined so thoroughly.
Stefan: It was ultimately because the person who ran it was Tibor Kalman and he didn't go to design school and he was not a formal designer. So that allowed him to really have more time as he couldn't do a layout, so he spent his time on 'what is it we should do, and for whom should we do it', so there was a much bigger emphasis on these questions. I think in his case, the fact that he couldn't do the craft actually worked to his advantage, while other heads of design companies are too busy finessing the layout… I learned a lot there, it was a big difference.
IN MY CASE I REALLY WANTED TO BECOME A GRAPHIC DESIGNER…IT WAS MOSTLY ALBUM COVERS THAT BROUGHT ME TO THE SUBJECT, BUT THEN IN THE MEANTIME WHEN I STUDIED IT OR EVEN BEFORE I SAW THAT THERE WERE OTHER THINGS TO DO WITH IT THAT I REALLY LIKED.
Dave: Before you went there were you working on design, or were you practicing art?
Stefan: I was always working while I was studying…so when I was done with grad school, I had a very professional looking portfolio…so I never really had to do the 'intern junior designer' kind of rut... Working while being a student definitely helped.
Dave: I want to take one step back… So you were working, and doing client work while at school, but how did you come to design? Was it through art?
Stefan: No, I studied graphic design, and I loved graphic design. In Vienna, these things were very close together, as in there was no hierarchy between art and design or fashion or architecture, it was all taught at the same school and you made a choice. I did have classmates who wanted to become artists but their parents told them to study something where they can make some money, so they became graphic designers because of that and of course they didn't become very good graphic designers because they didn't love it.
Dave: You used to do a lot of album covers. Why did you cut that off?
Stefan: Because that was basically done during the first sabbatical where I felt that I had done enough of that…at that point it was still going full force and I was just less interested. I felt that the 28th CD cover wasn't as fun as the first one…In retrospect I was very fortunate that I made that decision, because when the music industry collapsed two or three years later, we were already gone. It's much more comfortable for me if I feel I am in charge of something and that I made this decision and I am out of this thing, rather than being forced out of something by economic circumstances.
I WAS JUST LESS INTERESTED. I FELT THAT THE 28TH CD COVER WASN'T AS FUN AS THE FIRST ONE
Dave: I have some questions about your sabbatical. I felt like I heard a lot more about your studio in New York after your first sabbatical in 2000, especially the talking about the sabbatical, and the creative ideas that came out of it. Was that a springboard for you?
Stefan: Very strangely, yes. When I planned the first sabbatical, one of the fears was that we were going to be forgotten, that we would basically have to restart from the beginning. The second fear was that all of the clients would be moving. And neither of these fears materialized at all…The clients were more jealous than pissed, and we clearly were not forgotten. We clearly got a lot more press for not working than we got for working and the clients didn't disappear.
WHEN I PLANNED THE FIRST SABBATICAL, ONE OF THE FEARS WAS THAT WE WERE GOING TO BE FORGOTTEN, THAT WE WOULD BASICALLY HAVE TO RESTART FROM THE BEGINNING.
Dave: I don't know if it is an old wife's tale or not, but I heard that that JayZ came to you for an album cover and that you told him you didn't do album covers anymore, but that you pushed back on the money and then the money came up and you had to do it in an absurd timescale. Is that true?
Stefan: Yes. We had to do it in 3 days I think! I directed the photoshoot from London on the phone - it was ridiculous. I was not on skype, so I literally directed it over the phone.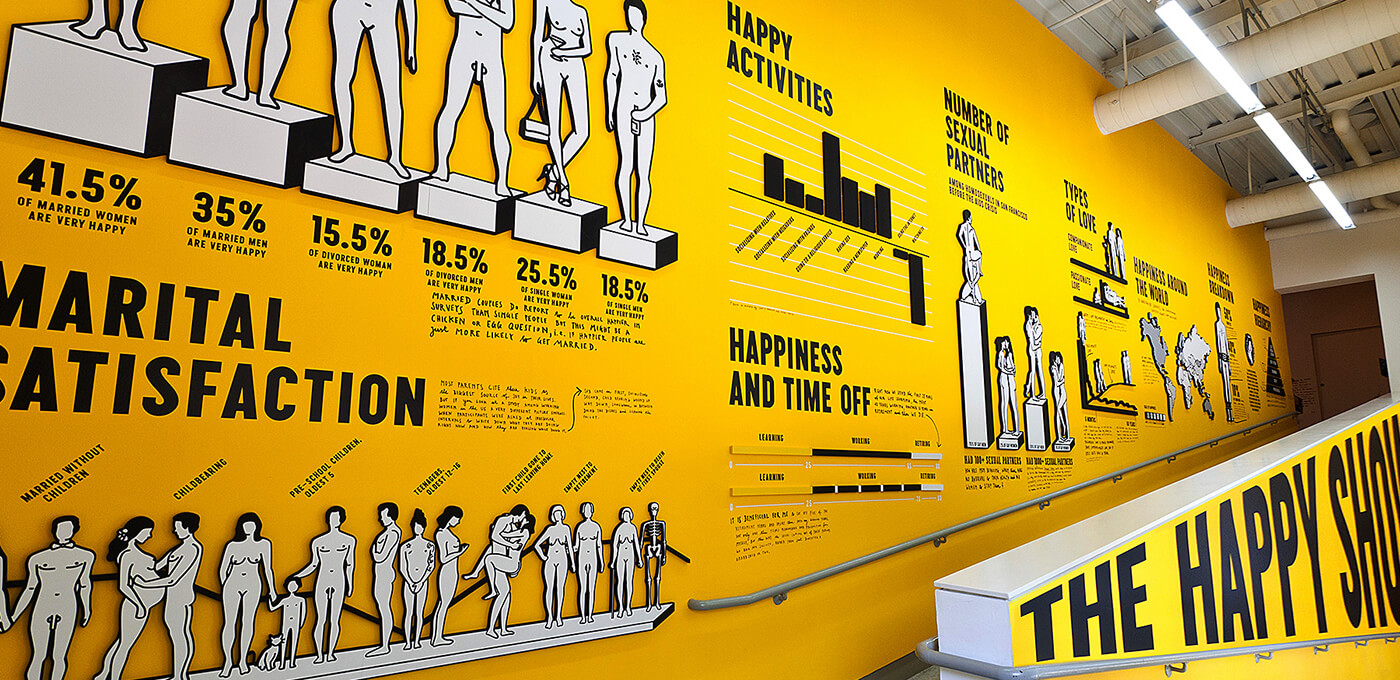 Dave: How much of your time now is spent on the Happiness project versus studio stuff?
Stefan: It goes up and down but probably 15 or 20%. I also do a lot of these talks, and the money that I get paid goes in to financing the film, so I don't know how to determine that because when I am out talking am I in the space of 'happiness' because I am making money for the film?
Dave: Are you learning the tools when making the film, like learning how to shoot Red cameras etc.?
Stefan: Hardly…
Dave: So you are directing pretty similar to the way Tibor directed graphic design…
Stefan: Yes. I have been influenced by Tibor in that everything that you do and learn there is a payoff, there is a drawback. I could shoot probably more exactly what I want if I could shoot myself and there are good parts of the films that I did shoot because there are self interviews or whatever, but I would never ever in my wildest dreams put myself out…to shoot for other people, it's just that I am there and other people are not so I have to shoot, and in a situation like this I do shoot…I wouldn't want to operate the Red Cameras and I have no desire in learning.
Dave: Will you explain what the Happiness Project is to somebody who doesn't know?Stefan: Basically, it's a film exploring whether it is possible to train my mind in a way that would wind up in me being in an elevated level of wellbeing. I do 3 directions in the film; mediation, cognitive therapy and drugs as the backbone of the film. And after we started with the film I re-did a talk and after we were asked to do an exhibition. So there is something called the Happy Talk and something called the Happy Show, which is the exhibition part. So all 3 things influence each other: the talks pay for the films, and we do things for the show which will wind up in the film, and probably the show is the reason I haven't given up on the film yet because I definitely would have otherwise…So there are these 3 different entities which will hopefully build on each other.
I DO 3 DIRECTIONS IN THE FILM; MEDIATION, COGNITIVE THERAPY AND DRUGS
Dave: Do you get people telling you that you affected their life with the Happiness Project?
Stefan: Yes! I get hundreds of letters from boys who kissed their first girls because they overcame that hump after seeing the show, to a good number of marriage proposals, and everything in between. I don't think that I have been involved in a project in the 20 years since we have had the studio that created that much positive feedback.
I DON'T THINK THAT I HAVE BEEN INVOLVED IN A PROJECT IN THE 20 YEARS SINCE WE HAVE HAD THE STUDIO THAT CREATED THAT MUCH POSITIVE FEEDBACK.
Dave: So, one last question: The girl you gave the flower to in the film…
Stefan: She did not call!
We thank Stefan for his time and wish him happiness and luck with the ladies.
Like what you saw?
Additional Insights